Description
Download sample customized datasheet for this product family: SB-223615-11-UE-S4
SB-223615-11-UE-S4 is a High RF Isolation Shielded Box comes with customizable I/O Ports, RF Ports and customizable Box Size as well. High RF Shielding Boxes offers attenuation levels up to 95 dB even at 8 GHz. Maximum operating frequency customization is also available for whole series of High Performance RF Shielded Boxes.
SB-223615-11-UE-S4 comes with four SMA (f) RF Ports, two USB 2.0 connectors, two 1 Gbps Ethernet LAN connector and one fully shielded DC Power Jack rated up to 4.5 Amps. However, it is also possible to configure I/O ports by adding required number of USB 3.0 connector(s), HDMI 1.4b compatible feedthrough connector(s), 10 Gbps Ethernet LAN connector(s), Panel mountable Optical Fiber feedthru element(s) with 120 dB suppression and  110/220 V compatible AC feedthru connectors as well. Ventilation panels are offered as a standard item and can be configured both in size and comb radius as well.Implementation of other types rarely used I/O ports is also possible upon request.
Its solid design makes it preferable for every laboratory environments and test conditions.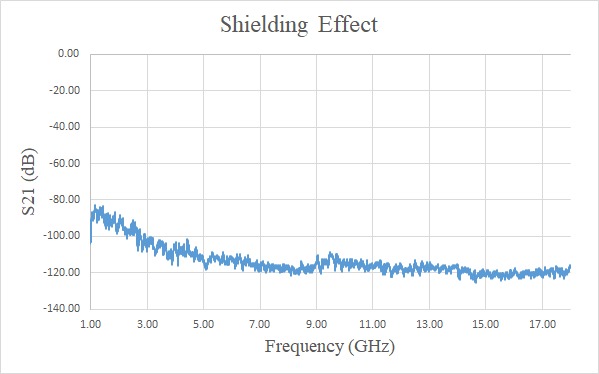 Parameter
Notes/Explanations
Value
Environment
Operating Temperature
b/w -51° & 121°
Relative Humidity
< 95%
Physical Interfaces
Power
DC Shielded up to 4.5 Amps
I/O Ports
USB 2.0, 1 Gbps LAN
RF Ports
SMA (f)
Ventilation
Customizable in Size
Mechanical
Dimensions (mm)
440 x 290 x 220
Weight (kg)
6.3